Newest, beautiful, single women now added for week of Wednesday, 15 March, 2023 - Tuesday, 21 March, 2023
Your opportunities here are truly worldwide. Explore our site deeply to see how you can realize that!
Real Reasons Men Travel to Barranquilla, Colombia
One of the most important documents that you have is your passport. It's kind of like a driver's license, in that people use it as a means of identifying themselves and it signifies that the person holding it is allowed special privileges. With a driver's license, it's the privilege of operating heavy machinery. With a passport, it's the privilege of passing through international borders.
A lot of guys exercise that latter privilege to go to Barranquilla, Colombia. Now, the flight from the United States to Colombia isn't generally that long, at least not if you're flying from the East Coast. But it's not just the relatively short flight time that drives men into planes bound for Barranquilla. There's so much more that the city has to offer and it's those offerings that drive men to pack their bags and book flights and hotel rooms.
Travel to Barranquilla, Colombia
The Location
First, it needs to be said that Barranquilla is convenient. How could it not be? It's situated on Colombia's Caribbean coast. It's an industrial city, but it's close to more obvious tourist destinations like Santa Marta or Cartagena. So anyone looking to go to either of those places can use Barranquilla as a base to travel to the more famous tourist spots.
But that's not to say that Barranquilla doesn't have anything to offer in it's own right. Barranquilla has some great beaches that aren't going to require you to have to travel to a different city. Beaches with soft sands and warm waters, places that are perfect to relax and unwind.
The Carnival
Some cities have a festival that attracts people from all over the world, a huge party to which everyone has an invitation. New Orleans has Mardi Gras. Venice has its Carnevale di Venezia, and Barranquilla has Carnaval de Barranquilla.
In 2003, UNESCO declared it as one of the Masterpieces of the Oral and Intangible Heritage of Humanity, a recognition of cultural heritage. The Carnival is usually held in the four days before Holy Week. There's events and concerts and it's generally just a good time to be had by all.
Smooth Sailing To Barranquilla
The Arts And Culture
Colombia has a very rich culture. You know what magical realism is? It's when a story has a mundane setting but there are fantastical elements that no one comments on, like if a clock starts talking but no one makes note or or is surprised by a clock being able to affect human speech.
But that's just one example of Colombia's culture and it's an intangible aspect of it. Do you want a more corporeal look at Colombia's culture and its heritage? On the Western side of the Plaza del Paz or Peace's Plaza lies Queen Mary's Cathedral. The stained glass windows are of particular notoriety and should not escape your notice should you find yourself in Barranquilla.
Also, you know the book One Hundred Years of Solitude? Well, it was Gabriel Garcia Marquez who'd win the Nobel Prize for Literature. But before he was getting such a high honor, the author was part of the Barranquilla Group. He and a bunch of other literary types would meet to discuss art, life, and to just talk.
They met up in a bar called La Cueva and that bar is still around. So if you're hoping to find some leftover spark of literary greatness, that's where you might find it. Also, you can find live performances and literary readings there if you're hoping to find an artistic spark that's a little more contemporary.
Something Smells Fishy
A man's gotta eat, right? Well, here's something that you need to know about Barranquilla's location if you're someone who enjoys his seafood; it's blessed. With access to the Magdalena river and the Atlantic Ocean, Barranquilla's got a lot going for it when it comes to fish.
If you're hoping to taste its bounty, you need to go to Las Flores. It's a district along the coast that is overflowing with seafood restaurants offering dishes fresh from the water.
If you do want to nosh on some fish, maybe you can wash it down with some Grand Old Parr, a British whiskey that at one point held more than half of its market share in Colombia and costenos, people who live on the coasts, make up 40 percent of the brand's market. So you could say that it's pretty popular down there, especially in coastal areas like Barranquilla.
The Colombian Women
Coastal areas and carnivals are all well and good, but the pair of them aren't the only reasons that men flock to Barranquilla. There's also the women.
Meet Colombian Women
Yeah, a lot of single guys flock to Barranquilla and other cities in Colombia in order to make themselves a little less single. Some of them are under the belief that Colombian women are all beautiful and passionately loyal to their men, which is the stereotype that has been ascribed to them.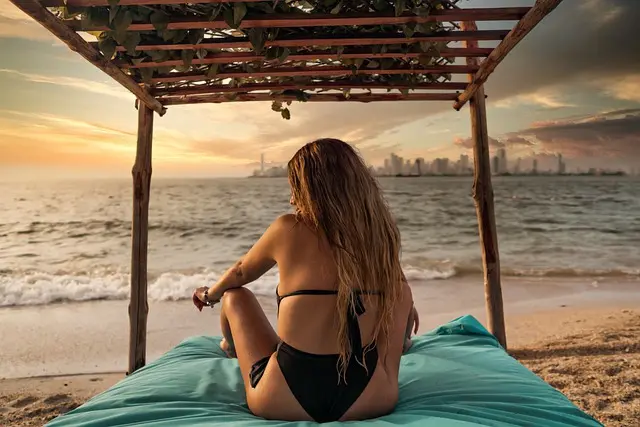 Others have seen pieces of media like Modern Family and they see that one of the main couples on that show is an old American man and a younger Colombian woman.
Whether or not there's any truth to the stereotype or in the media depictions, the stereotype persists and it draws men to the country. Barranquilla, as its largest city, is fertile ground for single guys who want to find a Colombian partner if only due to the sheer volume of people there.
More people in general means more women which means more single women which means more opportunity. There are over a million people in Colombia's fourth most-populated city, some of whom are single women looking for love.
Barranquilla is a city with a lot to offer. It has quite the rich history, a fantastic cityscape, and its location is ideal for someone who wants to travel to other parts of Colombia or soak up the Caribbean sun.
Of course, there's also the women that are pretty renowned all over the world. The women are also pretty enticing for male tourists.
Newest, beautiful, single women now added for week of Wednesday, 15 March, 2023 - Tuesday, 21 March, 2023
You have to meet the women to marry them! What other international dating site offers you numerous opportunities to do that?